Solar Air Conditioner Overview
AC-DC Solar Air Conditioners & All-DC Solar Air Conditioners for commercial or residential use.

One-Ton Solar Mini-Split AC Units

For solar PV powered AC/Heat Pump units (DC powered & AC-DC hybrid solar air conditioners and heat pumps) please visit our partner HotSpot Energy.
Below: Solar-Ready Chillers 2, 4, 6 + Ton Ductless Chiller Heat Pumps

Chiltrix Ultra-Efficient Chiller Air Conditioner Uses up to 8 Indoor Units

AHRI-Certified IPLV EER 23



Chiltrix CX34 DC-Inverter Ultra-High Efficiency Solar-Ready Heat Pump Chiller Air Conditioner.

2-4-6 + Tons. Up to 8 Indoor Units per 2-Ton Chiller Module.

The Chiltrix air-source chiller heat pumps are 2-ton modular units and can be "stacked" to create systems of virtually unlimited size.

This DC-Inverter chiller offers variable capacity making it always the exact right size. DC-Inverter pump saves additional energy on loop circulation.

Super-slim 5.1" indoor units also use DC-Inverter fan motors.

IPLV rated EER 23 Cooling / COP 3.92 Heating. The most efficient chiller heat pump on the market.

Integrates with solar thermal heating, solar water heating, and PV solar panels.

For more details Contact Us or see complete small heat pump chiller air conditioner manufacturer information.


Ceiling Mount

High-Wall Mount



Floor or Wall Mount

PTAC/PTHP Hotel Room Air Conditioner - DC Inverter PTAC Unit Saves 35-40%

PTAC Hotel Room Air Conditioner Heat Pump (PTHP) for hotel, motel room, small office, home/residential or other use.

Using DC Inverter technology, this Mitsubushi-powered PTAC unit saves 35-40% on electrical consumption with an effective SEER of >17.

This PTAC is designed for hard, continuous use in hotels and other commercial environments, making it perfect for long-lasting home use.

See Details Hotel Air Conditioner

Download Hotel Room AC Unit Spec Sheet

NEW! Available late Q1 2016
DC Inverter Portable Air Conditioner (Dual Hose DC Inverter Portable AC)
Uses 50% less Power - Perfect for Solar Applications

The Climax Dual Hose DC Inverter is the worlds first high efficiency portable air conditioner. Get the same cooling for half the electricity, or get double the cooling for the same amount of electricity.

Save 50% or more compared to standard portable air conditioners.

12,000 BTU Rating

DC Inverter Compressor

Easy to transport, user-installable within minutes, convenient 115v power, no drain needed.

Details at Climax Air Inc.

Below: Commercial Solar Absorption Chillers
(Solar Thermal Air Conditioning -
Commercial Only

-10-Tons & Up)

The information below is about thermally powered (absorption chiller)
solar air conditioners for commercial use.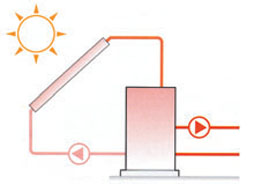 For residential use or for smaller solar AC/heat pump systems please follow the above HotSpot Energy link.

A solar powered chiller system can be an efficient and cost effective option for commercial air conditioning. SPP solar chiller air conditioning employs time tested absorption chillers made by Yazaki.
Absorption chillers are powered by heat (hot water). Many thousands have been installed using gas boilers as a hot water source. Using solar thermal energy is an alternative to gas and is a free and well proven method of powering an absorption chiller.
Evacuated tube collectors are one of the most efficient and effective producers of high temperature solar hot water. Absorption chillers are proven to run effectively with a proper solar thermal configuration.
How Solar Air Conditioning Works

The solar air conditioner / solar heater is powered by solar energy collected in the evacuated tube solar thermal panels (right). The thermal energy collected is then delivered to the solar powered chiller using a Propylene Glycol (food-grade antifreeze) heat transfer solution and a simple but carefully designed piping system.
In summer or winter, even at below freezing temperatures outside, SPP evacuated tube solar thermal collectors produce an abundance of heat. The system is designed so that this heat is transferred into the absorption system, either reducing or eliminating the operation of the existing cooling and heating system. This makes possible free solar air conditioning in the summer, and free solar heating in the winter.
See Diagram of Solar Air Conditioning / Solar Heating System for more information.
About Solar Air Conditioners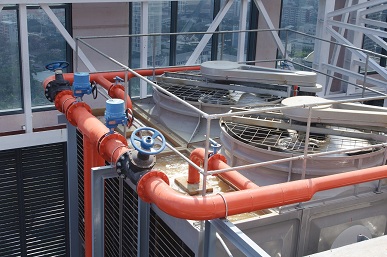 Absorption chiller air conditioners are not a newly developed technology. In fact, they have been commercially used in the U.S. since the early 20th century and are widely used today in the northeast. Absorption chiller AC units are also very popular in Asian countries like Japan, where the high cost of electricity make them very desirable. Chillers constitute up to 40% of all installed commercial air conditioning tonnage. They are simple and dependable, using no harmful CFC (Freon, etc.) and some units actually operate without any moving parts.
When engineered to run on solar energy the absorption chiller AC systems provide a low cost to operate and a great return on investment compared to even the highest efficiency conventional air conditioning systems.
Solar absorption chillers are very low in operating and maintenance costs, and consume little or no electrical energy. The only parts that use any electricity are low amp fan motors, control boards, and small pumps that move the thermal transfer fluid from the collectors to the chiller and then back up to the collectors. Inside the unit is another small pump that circulates the refrigerant. There is no "compressor" to consume power. All of these small electrical loads can run from a small solar PV panel setup if desired, meaning zero energy costs for the solar air conditioning system.
With continually rising energy costs, solar air conditioning has become an increasingly attractive option for cooling and heating applications. Air conditioning is one of the most expensive operating costs that a business faces today. Absorption chillers are efficient, reliable, low maintenance – and even better, able to be powered using only the sun. Solar cooling has the direct ability to drastically lower your energy and operating costs.
Solar Panels Plus provides engineering, design, and support to installers of solar air conditioning systems across North America. To learn more about this system, please Contact Us today.