Non-Penetrating Roof Mount For Solar Panels
This ballasted flat roof (or ground mount) solar PV panel mounting is the lowest cost and easiest to install flat roof mounting hardware available. A ballasted flat roof solar mount can also be used on flat ground.

A ballasted flat roof solar mounting hardware does not require any roof penetrations for mounting the solar panels. The non-penetrating ballast flat roof solar mounting system can easily be used as a ground mount solar PV mounting system. The standard system is wind load rated at 120 MPH per ASCE 7-05 and can be engineered for wind loads up to 150 MPH.
SPP EF2
The flat roof/ground mount system is compatible with all standard solar panels of 60 or 72 cells, and will work with most all other panels as well. Please contact us to confirm applicability for non-standard PV panels.

Videos
| | |
| --- | --- |
| | |
| Product diagram | Installation |
Installation Images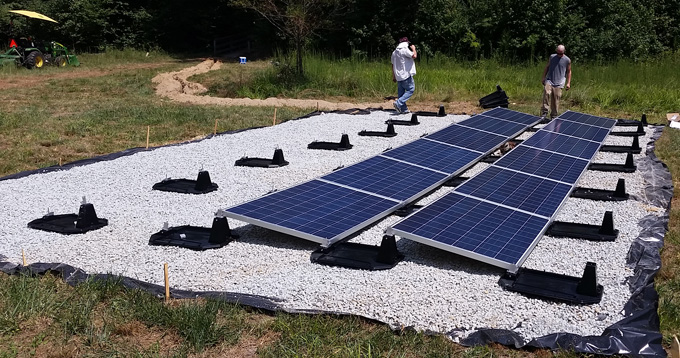 (Click on any image to open in a new window)
Technical Specifications
Ballasted flat roof system with no roof penetration needed. Attachment options available.
Materials:
ASA Luran by Styrolutions
Dimensions:
26.5″ L x 18.25″ W x 8.3″ H
Weight:
4 lbs each
Modules:
Framed PV panels
Size:
Compatible with standard 60/72 Cell PV panels Contact Us
Orientation:
Landscape or Portrait
Tilt Angle:>
4⁰ – 12⁰
Inter-Row Spacing:
18″
Roof Pitch:
0⁰-5⁰
Ballast Requirements:
4″ x 8″ x 16″ blocks (31.5 lbs. each)
Installed Weight:
3 – 7 psf
Code Compliance:
Building Height: Meets ASCE 7-05 up to 60 feet, higher upon request
Exposure: Meets ASCE 7-05 Category B, C, D.
Wind Load: Meets ASCE 7-05 up to 120 mph
Snow Load: Meets ASCE 7-05 up to 70 psf
Seismic Load Meets ASCE 7-05 in all zones
Warranty:
25 years
PV Solar Flat Roof & Ground Mount Hardware Documentation