Solar Panels Plus supplies a variety of solar heat exchangers for a variety of applications. Types range from brazed plate heat exchangers, tube and shell, and heat exchange pump stations.
Many of our SPP solar storage tanks include a built-in internal copper heat exchanger. However, for some applications an external solar heat exchanger is needed (for example, indoor solar pool heating systems often use an external tube and shell heat exchanger).
Our full line of solar heat exchangers are designed to fit all of your solar needs, from small residential hot water systems to large, industrial solar applications.
A wide variety of sizes are available. For full details, please contact us.
Brazed Plate Solar Heat Exchanger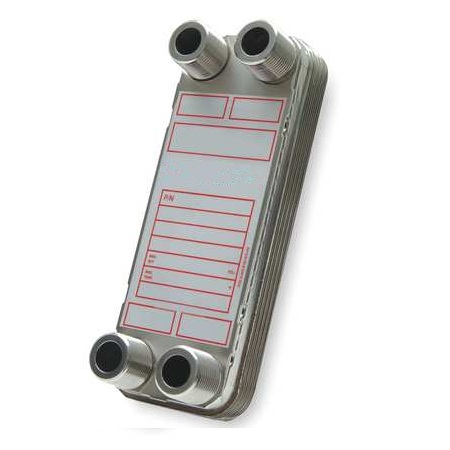 The SPP series of brazed plate solar heat exchangers are ideal for domestic solar hot water systems. These units have high efficiency and transfer ratings to minimize heat loss during the exchanger process.
External solar heat exchangers are a perfect solution for certain solar applications - such as when re-using a customer's existing storage tank.
External heat exchangers also allow for easier maintenance, allowing the exchanger, tank, or other components to be worked on - or replaced - with minimal expense.
This line of solar heat exchangers has been designed and manufactured with certain plate corrugation patterns and geometry that promotes high turbulence flows, thereby maximizing the heat transfer from the solar collectors to the domestic tank.
Both single-walled and double-walled solar heat exchangers are available. 
Product Features
Double & Single Wall: These solar heat exchangers are available in both single-wall and double-wall, allowing their use in both potable and non-potable water applications.
 
UL Listed: Certified and listed under UL Standards to be safe and ready to use in all solar applications.
 
Variable Sizes: Sizes ranging from 30,000 to 125,000 BTU/Hour available.
 
Glycol Compatible: Suitable for all types of water and solar corn glycol mixtures.
 
High Efficiency: High-performance design maximizes heat transfer between the solar loop and the domestic loop.
 
Multiple Applications: Usable in all types of heat systems and loops; Geothermal, solar hydronic heating, central heating, solar hot water, and more.
For a full listing of product sizes and specifications, please contact us.