Solar Panels Plus provides complete Balance of System (BOS) – or solar thermal components – to give you the most streamlined, integrated solar thermal system possible.
We provide a full assortment of solar components, such as expansion tanks, pre-insulated line sets, valves, fittings, and much more. Many of these components are critical to solar hot water and solar heating systems.
In the solar packages we offer, these components are pre-selected and sized to fit the system to give installers a single, complete package that makes installation easy, fast, and simple saving both time and money.
Solar Heat Dissipation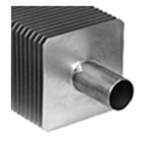 The SPP Heat Dissipaters protect solar thermal systems from overheating, stagnation, and excessive temperatures. These are a perfect application for closed loop glycol solar thermal applications. These units work in all environments and weather conditions, and work using outside air convection and internal flow.
The dissipaters are designed to withstand and dissipate high temperatures, removing up to 12,000 BTU/hr. per unit. This allows for worry free operation and protection of your solar thermal system, even in the hottest environments.
No power or ancillary components are required for the operation of these units. As long as the units have an appropriate flow rate, no fans, electrical power, or other items are required for effective heat dissipation.
High Temperature: Dissipates up to 12,000 BTU/hr. per unit.
Protection: Protects high temperature collectors from stagnation and other heat related issues.
Enhances Component Life: Protects solar glycol, pumps, and other components from burning, overheating, thereby enhancing lifespan.
American Made: Made in America, units are manufactured from top-quality materials.
Flexible Mounting: Available in flush mount & collector mounting kits, enabling installation flexibility.
No Power Needed: No extra components, power, or equipment needed to function.
Air Vents and Air Separators
Automatic Air Vents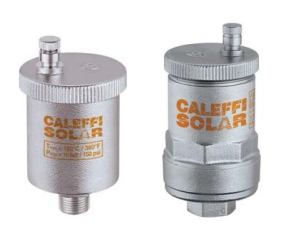 Automatic air vents are used in the closed loop circuits of solar thermal systems. These allow air contained in your water/glycol mixture to be released automatically during the filling process. It works though a valve operated by a float that comes in contact with the fluid in the loop of the system.
These auto air vents in particular have been designed to work at high temperatures with a glycol medium (water/glycol mixture), which is typical in most solar thermal systems.
Auto air vents are available in standard performance for most solar thermal systems, and high performance for when large quantities of air under high pressure needs to be vented from the solar loop. High performance auto air vents are also often used in hydronic heating systems during the filling and start-up phase.
Air Separators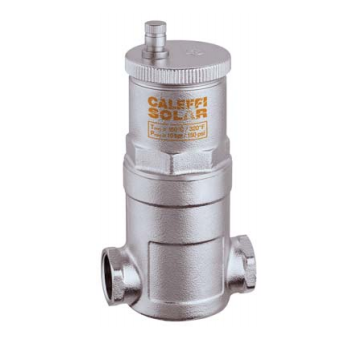 Air separators serve the purpose of removing dissolved gases in a solar thermal system's primary closed loop. The presence of dissolved oxygen in a solar loop can cause rapid, localized corrosion in the solar collectors and in the heat exchangers. Carbon dioxide will dissolve in water, resulting in low pH levels and the production of corrosive carbonic acid. Low pH levels in a solar loop can also cause severe acidic attack throughout the solar thermal system.
Dissolved gases and and low pH levels in a solar loop can be controlled by the addition of chemicals, however it is much less expensive and more thermally efficient to remove these gases mechanically, with an air separator.
This series of air separators is designed to work with high temperature glycol mediums, which is typical of solar thermal systems. They are designed to continuously eliminate air without any trouble with noise, corrosion, local overheating or mechanical damage. These air separators are high capacity, and automatically remove both air and micro bubbles.
Expansion Tanks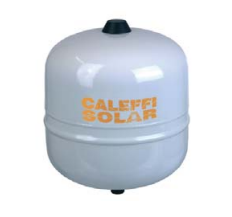 Solar expansion tanks are a critical element in every solar thermal system. These expansion tanks are designed with a special heat-resistant diaphragm that can withstand temperatures up to 210°F.
These expansion tanks ensure that the system pressure does not exceed or drop below the limits established in the system design. The diaphragm in the expansion tank divides the space inside the tank occupied by the pre-charged gas and the solar fluid. As the solar fluid expands due to heat, the diaphragm stretches into the gas chamber.
These expansion tanks allow for your solar heating system to operate at optimal pressure without activating the safety relief valve. Each expansion tank must be sized to accommodate the solar loop.
Expansion tanks are a critical component in the steam-back solar system design, allowing for the high pressures associated with this application to be mitigated, resulting in a long lasting and high performing solar thermal system.
Flexible Stainless Steel Insulated Piping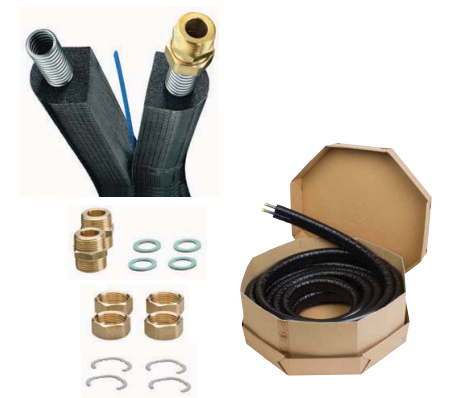 Solar Panels Plus supplies pre-insulated, stainless steel piping for solar thermal systems. These lines include("quick, simple, and professional manner.
This solution contains two flexible stainless steel pipes inside  EPDM closed cell insulation, along with an integrated sensor cable for monitoring solar collector temperature with a solar controller.
These stainless steel lines are designed to withstand high temperatures associated with solar thermal systems, and provide excellent heat retention and insulation, optimizing the performance of the solar thermal system.
This piping solution saves time and significantly reduces the cost of installation by enabling fast connection of the solar collectors to the solar tank. They ensure a leak-free installation, and allow pipes to be installed without the use of a torch. These pipes can be joined and cut easily without the use of special or proprietary tools.
These line sets are available in 50' coils, or in custom lengths. For pricing, please contact us.
Inline Balancing Flow Meter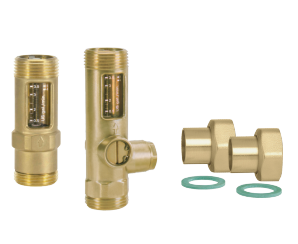 The inline balancing flow meter is a quick, easy, and effective way to monitor and control the flow rates through solar and hydronic heating systems. Using a flow meter allows you to achieve optimal balance of the system, ensuring peak energy distribution which results in more efficient operation as well as higher performance.
These flow meters are constructed from brass materials, with a high-performance sight glass and baffle float for long lasting durability. They are designed to work with both water and a glycol medium under high temperatures, making them an ideal fit for solar applications.
Valves can be installed in a horizontal, vertical, or inclined position. For pricing and availability, please contact us.
Diverting Valves
Diverting Valve: Electronic / Zone Valve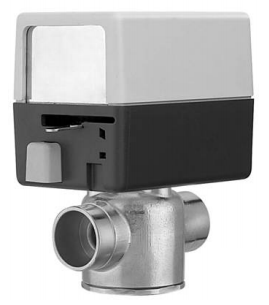 The electronic diverting valve is a diverting valve used in solar thermal heating systems for various applications. The electronic actuator is operated either by a thermal switch, or by the solar controls.
These units allows for custom, versatile applications and advanced multi-zone solar thermal systems.
These valves are also used for controlling heat dissipation loops, protecting solar thermal systems against overheating.
UL Listed, and constructed with high qualify brass, stainless steel, and EPDM materials, these units are a perfect application for both water and glycol system applications.
Diverting Valve: Thermostatic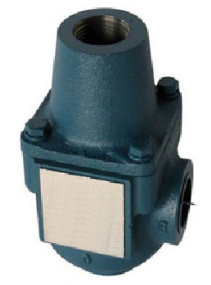 The SPP thermostatic diverting valve uses the principal of expanding paraffin wax compounds to operate the diverting valve using only the heat generated from the solar thermal system.
As the system loop heats up, the self-contained element activates a stainless steel sleeve, thus directing flow towards the heat dissipation loop (or towards another application).
These valves are made from industrial grade materials here in America, from gray iron castings ensuring long life and exceptional durability. No power is required for these valves to operate, and they are exterior rated, allowing for a fast, simple installation.