Overview
Solar pool heaters for your home can greatly reduce swimming pool heating costs. Solar pool heating systems are cost competitive with traditional propane, natural gas, and heat pump pool heaters, but without the high monthly fuel or electric bill.
Get The World's Most Efficient Solar Pool Heating Panels / Lifetime Warranty

Click Here To See The Details
Solar pool heating systems are simple to install, have a low up front cost, and often pay for themselves in as little as 1 or 2 swimming seasons. Many solar pool heating systems make use of your existing pool pump and filter, meaning no increase in your electrical bills or extra operating costs.
How it Works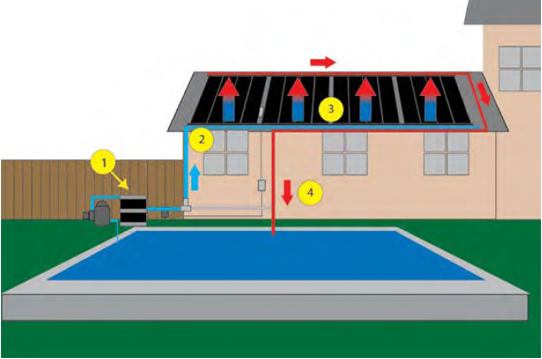 The SPP solar pool heaters work by taking pool water that has passed through your pool filter, and instead of immediately returning to the pool, it is diverted towards the roof where the pool heaters are located (1). As the cool water passes through the solar pool heaters (2) , it is warmed using the sun's energy (3), and then returned back to the pool (4).
One of the biggest benefits is allowing you to enjoy your investment in your pool longer each year by extending your swimming season significantly. You can enjoy warm pool water much earlier than before, and extend your swimming season by months, or even all year long, depending on the area in which you area located.
You can view more information on our USA-made solar pool heaters here.
Applications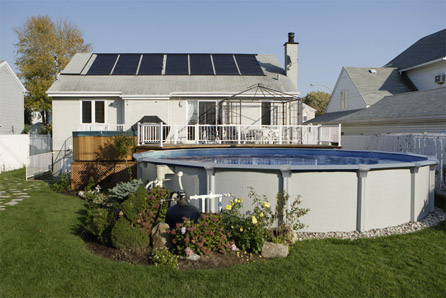 Residential solar pool systems are perfect for any home pool application.
Whether your pool is above ground, inground, or indoor, our solar pool heaters can keep your home pool warm, extending your season by months, or keeping the pool warm all year long.
Packages
Solar Panels Plus provides pre-packaged home solar pool heating kits. These packages include everything your installer needs for a fast, convenient, low cost, professional installation. These kits are made for both small and large residential solar pool heating applications, and will provide you with free, warm pool heater that will help you get the most out of your investment.
One size does not fit all - contact us for a custom solar pool heating system package, system design, or quote.
FAQs
5. Why should I heat my pool?

Your pool represents a significant financial investment. Heating your pool allows you, your family, and your guests to enjoy that investment longer throughout the year. 
Heating your pool enables you to comfortably enjoy your pool - this means swimming earlier in the spring, later in the evenings, and later into the fall.
11. How does a solar pool heating system work?

Cold water is pumped from your pool using your existing pool pump & filter through our solar pool heaters. Our long-lasting, high perforance solar pool heaters then warm the water from your pool using the sun's energy, much like water in a garden hose will become hot by sitting in the sun. This warm water is then pumped back to the pool. This continous cycle warms the entire pool, allowing you to enjoy your swimming pool later into the day, and longer throughout the year.
For more information, see our solar pool heating diagram here.
12. Why use a solar pool heater instead of an electric or gas pool heater?

A solar pool heater can be less expensive up front than an electric heater, heat pump, or gas heater, depending how large your pool is. Once a solar pool heater is installed, you heat your pool for free. With an electric or gas heater you need to pay the electric or gas company depending on how much you use the heater. In the spring and fall when you need heat the most, you use the pool heater more, so with an electric or gas heater it will cost you more - but a solar pool heater is always completely free.
Also, solar is non-polluting, and it can actually serve to cool your pool down to a comfortable temperature during very hot months, something no gas heater can do.
13. Will a solar pool heater save me money?

If you are currently heating with a gas or electric heater through the traditional swimming season, a solar pool heating system can pay for itself in as little as 1 or 2 years. Solar pool heating systems typically last in excess of 15+ years, meaning that you are constantly saving quite a bit of money as opposed to gas or electricty costs - which are always on the rise.
22. How will a solar pool heating system work with my commercial pool?

Commercial pools heaters work the same way as the residential systems, but generally they are larger. The SPP solar pool heating system will also work directly with your existing heater - gas or electric. During the day, the solar pool heaters will keep the pool at the desired temperature. During the night, or duiring a rainy season, your back-up heater can cut on if needed.
23. Should I use a pool cover with a solar pool heating system?

A pool cover helps save heat because it lowers the rate of pool water evaporation - nearly all of the heat lost from a pool is the result of the energy transfer at the point of phase change (where liquid water becomes water vapor). A solar blanket or other type of pool cover is very complementary to any pool heating system. Therefore, while a pool cover is not required, it does compliment your solar pool system.
24. How much does a solar pool heating system cost to maintain or operate?

Solar Panels Plus' pool heating systems use automated controls to operate the entire system with no supervision or monitoring needed. Therefore, there are no costs in operating or maintaining the solar pool panels. 
In some cases, an additional booster pump may be required, depending on the system design, however, this would cost at most a few dollars a month.